Are You Getting Enough Fruit and Vegetables In Your Diet to Stay Healthy
Dr. Michael Lange has seen what the power of proper nutrition can do for his patients, family, friends and followers on social media and his talk show "ask the dr". Ever since 1992 he has been recommending a higher consumption of organically grown fruits and vegetables to everyone. He has been changing people's lives through proper nutrition and life style changes. Throughout his profession, Dr. Lange has seen first hand how poor diet can negatively impact his patients. He is an endless crusader on a quest to help as many people as he can through an all natural approach. He has been involved in nutritional research to support ocular and overall health. Dr Michael Lange is also actively researching and developing diets, vitamins, sports nutrition supplements, whole food granolas, energy bars and superfoods.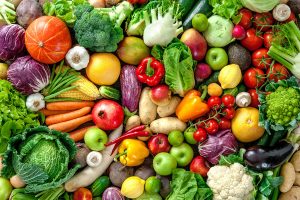 Progressively, more and more individuals are being negatively impacted by their poor diets and lifestyles. Sadly this is becoming more and more main stream at younger and younger ages. This is a result of the body not obtaining the correct fuel with the beneficial nutrients the body needs to flourish. The typical American diet is overly processed, calorie dense, nutrient deficient, fast food filled with pesticides, hormones, and antibiotics. Most people today are not consuming enough fruits and vegetables. To all of his patients, radio listeners, family, and friends, Dr. Lange recommends a mostly organic gluten-free paleo type of diet. He recommends eating a minimal of 10 servings of fruits and vegetables daily. However, even with this type of diet, many will still have digestive issues like tenderness and bloating in the abdomen, belching, and even gas after eating. Many people experience Irritable Bowel Syndrome (IBS), which can be aggravated by certain fruits and vegetables. These specific foods are called FODMAPS and are very common in the American Diet. Many studies indicate that restricting these foods may benefit IBS and other functional gastrointestinal disorders (FGID).
Dr. Lange and Fortifeye Vitamins decided to research and develop a powdered super food using all organic and non GMO fruits and vegetables that would be ideal for anyone on a low carb diet, Keto diet, Paleo diet, diabetics, even people experiencing IBS or other functional gastrointestinal disorders.
This new formula called Fortifeye Organic Blue Green Superfood is an all Certified organic, Gluten Free, Non GMO, delicious powder combining 12 different fruits and vegetables that are both Paleo and FODMAP friendly. Every ingredient, down to the flavor system, was taken into consideration in the development of this product. All nutrients found in the Fortifeye Organic Blue Green Superfood are sourced from the United States. Many Super Food related products use inexpensive binders, bulking agents, and fillers such as flax, psyllium, acacia, oat bran, etc. which leads the consumer to believe they are getting a healthy fiber and more bang for their buck in each scoop. However, this is not the case. In reality, both soluble and insoluble fibers interfere with the absorption of the nutrients from the overall product. You will NOT find any of these fiber fillers in our Organic Blue Green Superfood powder. Ingredients include: Spirulina, Kale, Spinach, Barley Grass Juice, wheat grass juice, Parsley, Peppermint Leaf, Blue Berries, Strawberries, Cranberries, Pineapple and Cinnamon. Dr Michael Lange and Fortifeye Vitamins developed this new generation super food powder for people to have an easy , delicious way of getting the valuable nutritional power of 12 different fruits and vegetables. Science has proven that the people who eat the most fruits and vegetables lead healthier lives. Fortifeye Organic Blue Green Super Food was developed to be used along with a healthy diet to make sure you are getting the levels of nutrition needed from whole foods to boost your immune system and promote overall wellness in the eyes and entire body.
---
---
---