About Our Practice
Our philosophy has always involved a patient-centered educational approach to eye care.
Our Board Certified Ophthalmic Physicians and Ophthalmologists have at their disposal a state of the art clinics that encompasses the latest advancements in eye care technology.  Lange Eye Institute constantly invests and upgrades to the latest in medical, surgical, optical and nutritional eye care.
Our spacious facilities feature specialty procedure and examination rooms dedicated to specialty contact lens fittings, low vision, pediatric eye care, handicapped, primary eye care, dry eye, glaucoma, macular degeneration and laser, and minor surgery rooms.
Welcome Dr. Castello
Dr. Michael Lange is excited to welcome Dr. Castello to the Lange Eye Institute. He will start full time December 2 2020. He is bringing years of experience in ocular disease treatment to the institute.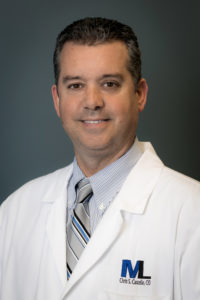 About Dr. Christopher S. Castello
Christopher S. Castello, received a Bachelor of Science degree from Florida Atlantic University in 1992 and a Doctorate in Optometry from Nova Southeastern University College of Optometry in 1997. He is a Board Certified Optometric Physician who specializes in the treatment and management of eye diseases. Dr. Castello performs routine eye exams including refractions and contact lens fittings. Dr. Castello is also trained in the co-management of cataract and glaucoma patients.
Monday 8 AM – 5 PM
Tuesday 8 AM – 5 PM
Wednesday 8 AM – 5 PM
Thursday 8 AM – 5 PM
Friday 8 AM – 5 PM
Saturday CLOSED
Sunday CLOSED
---
---