Dr Michael Lange, Ocala optometrist develops new generation sports nutrition supplement to help all ages
Dr. Michael Lange develops the newest addition to the Fortifeye Family. Fortifeye Fit is available as a pre and post recovery drink. Fortifeye Fit is the fist product in the Fortifeye Performance line of quality products to come.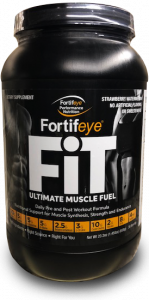 Fortifeye Fit is a carefully thought out pre-workout supplement that was developed to be used as both a pre workout and post workout supplement. This powder was developed using all of the highest quality ingredients with no dyes, artificial flavors, artificial sweeteners or carrageenan. All of the latest sports nutrition science was taken into consideration in the development of this formula to enhance muscle synthesis, strength and endurance. All of the evidence based nutrients that are used in this formula and are backed by good clinical studies.
---
---